Primary and Secondary School Teachers are invited to submit applications to the Innovations in Education Contest sponsored by the Taiwan ICT in Educational Development Project.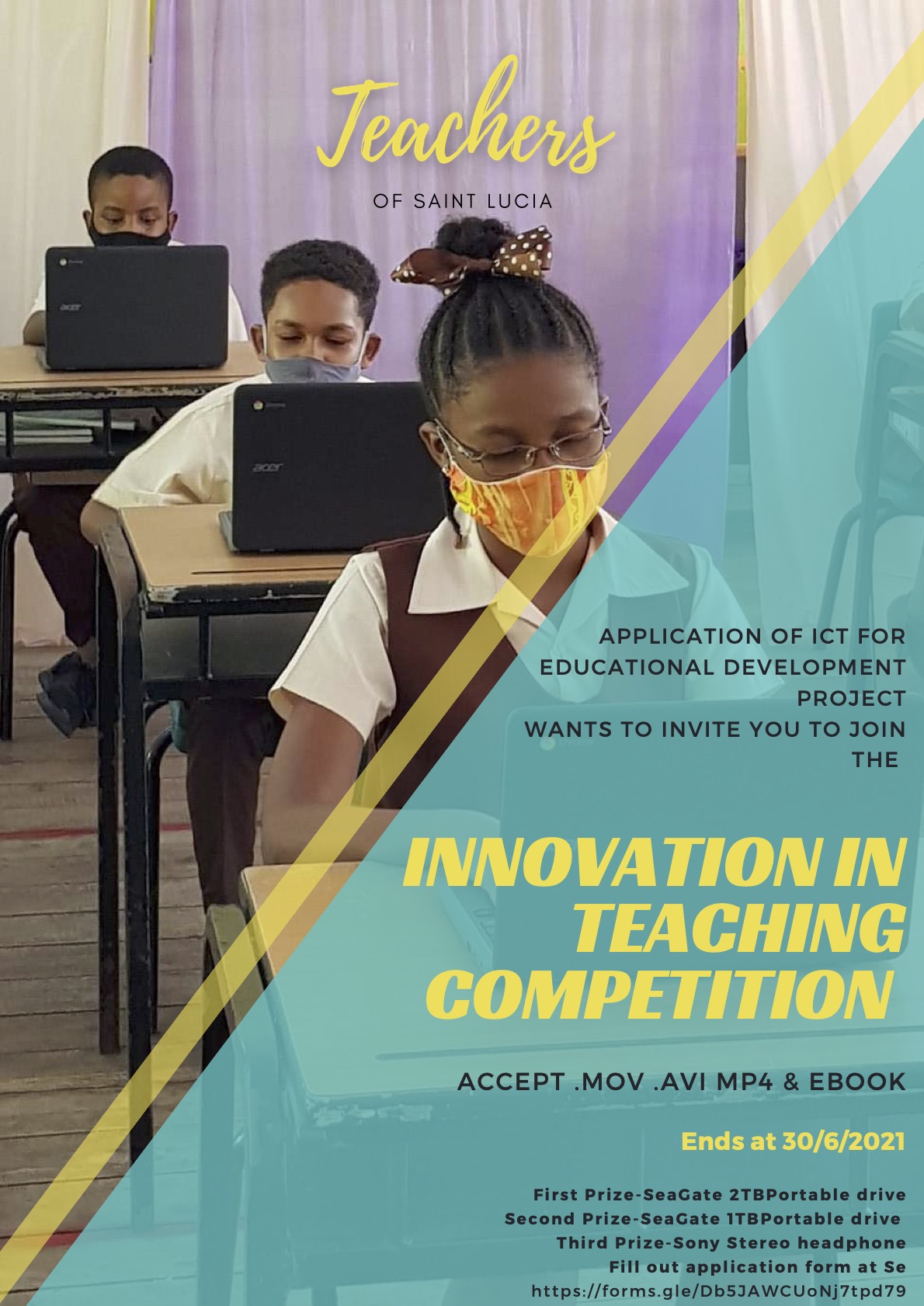 Introduction:
The Application of Information, Communications and Telecommunications for Educational Development Project values the creativity of the elementary and secondary school teachers. The Project encourages teachers to adopt teaching based on the content of self-made materials to enhance students learning and build-up education media resources for the academic development of Saint Lucia.
Qualification:
Primary and Secondary School teachers include qualified teachers and substitute teachers. Individuals and a team of no more than 2 people can be accepted in the competition. No cross-team participant is allowed.
Competition Area:
Language (Any), Mathematics, Science, Physical Education, Music,
Deadline for Contest
Applications start from today and end on June 30th, 2021
Announcement of Contest Awardees:
Before July 30th, 2021
Content Specification Description:
Fill-out application form online
The lesson plan can be combined with cross-disciplinary subjects and contain multiple digital contents (E-Book, Images, videos, word documents in conjunction with the lesson plan)
The number of words in the works shall be limited to a lesson and no more than 500 words in total.
The content cited in work (such as capturing images, text, pictures, video, and other resources) must be self-made or clearly cited original sources to protect intellectual property rights.
Rating areas and proportion:
A committee of experts in the various disciplines, MOE and IT fields shall review the entered items.
Rating areas include:
– Content displays 20%
– Innovation and creative content 20%
– Design and integration of material 20%
– Student Interactive arrangement 20%
– Originality and authentic cross-disciplinary idea 10%
– Engagement 10%
Awards:
| | | |
| --- | --- | --- |
| Place | Prize | # of Prize awarded |
| 1st | $500 or equivalent prize | 1 |
| 2nd | $300 or equivalent prize | 1 |
| 3rd | $100 or equivalent prize | 1 |
*Each award-winning team shall appoint a representative to receive the award when registering in the contest.
Entering for Contest:
Fill-out online submission form.
Upload teaching plan related materials in mp4, docx, jpeg or pdf formatted files or provide link for the web site for the materials. All materials will only be accepted when it is compliant with copyright regulation.
Selected entry materials will be posted on the website and on Facebook under the name of 'Saint Lucia Application of ICT for Education Development'.
---
Sponsored by Taiwan ICT in Educational Development Project
Deadline: June 30th, 2021
Contestants: Primary and Secondary School Teachers
Contact us at jojohuangh@gmail.com