The Ministry of Education, Human Resource Development and Labour is extending an invitation to all secondary school teachers to participate in one of the upcoming series of CXC Notesmaster® webinars.
The Ministry is continuing to promote CXC's Notesmaster® as an Open Education Resource (OER) that can support the successful integration of technology in instruction. The series of webinars will be held on June 2nd, 3rd, 9th, 10th, 11th and 18th, 2015. All webinar presentations begin at 9:00 AM and are of a 2-hour duration. Principals will select one of the sessions for their school to participate. Please note that only five schools can be accommodated per session. Contact Mr. Germain Anthony of CAMDU at 453-7057/285-6359 to confirm a date for your school. Go to http://camdu.edu.lc/calendar/ in advance to determine the available dates for scheduling your school.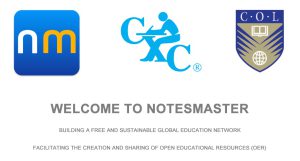 Please note the following instructions for Skype webinar session with CXC Notesmaster®:
Kindly confirm your school's participation in the webinar scheduled for (June ___, 2015) at (9:00 AM). Kindly indicate your preference, so that we can confirm with Notesmaster. If possible encourage all teachers at your school to participate. In preparation for the upcoming webinar the following is required:
1. Registration:
Attending teachers need to be registered on Notesmaster before the start of the webinar at http://www.notesmaster.com. Select the icon "CXC" Caribbean and a new page will open. Click on the "Register" button on this new page. Complete and submit your information.
2. School Liaison:
Identify a Notesmaster liaison to work directly with the Notesmaster support team ahead of the webinar. The liaison will be responsible for following up with workshop attendees and in offering them support in using the Notesmaster platform. Kindly provide the contact details for your Notesmaster's focal point to: ddundas@notesmaster.com
3. Equipment:
It is recommended that webinars are held in a computer lab. Schools are advised to use a projector connected to a laptop and speakers to facilitate the webinar. It is recommended that teachers attend with their laptops/ tablets.
4. Communication Platform:
The webinar will be conducted via Skype. Ensure that you share a SKYPE address with Notesmaster. Notesmaster's Skype address is: Notesmaster.com
5. Clarification and/ or additional support:
Should you wish to have a Skype meeting to discuss any issues or to perhaps schedule another introduction to Notesmaster webinar, contact:
Mr. Dean Dundas
Director
Notesmaster.com
Tel: 0044-772077-4893
Skype: Notesmaster.com
Email: ddundas@notesmaster.com